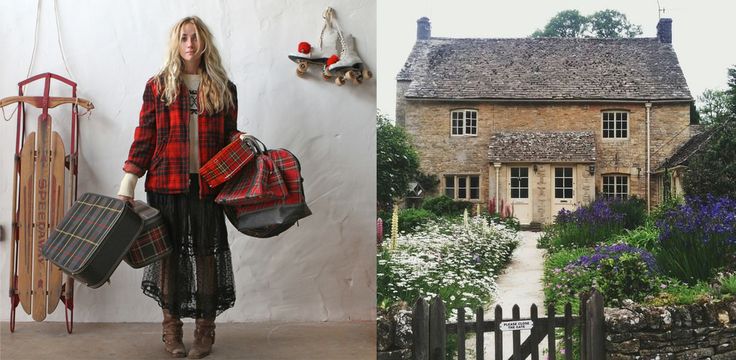 English Cottage
History and elegance in one style
Tartan and floral patterns, upholstered seating, rugs, wicker baskets and decorated furniture with elegant lines – traditional style of English dwellings with thatched roofs brings a cozy atmosphere.
This English living style can be considered to be the traditional style in Great Britain, as well as other countries with a British influence. It elegantly, timelessly shapes interiors with classical furniture of an antique nature. The classical English interior is dominated by furniture made ​​from solid, dark wood, mainly walnut, mahogany, oak or redwood. Walls tend to be wood panelled too, sometimes only the bottom half. In traditional England, there was no shortage of high-ceilinged rooms, hence wood panelling with decorative onlays gave buildings an old-fashioned character. Symptomatic are walls decorated with extensive variations of textile wallpapers with floral patterns, significantly more frequently seen than matt painting. Thanks to a combination of faded and saturated colors this style evokes the right romantic atmosphere today. Heavy, opaque, richly draped curtains with tassels adorn typically British checkerboard windows. Floral designs and patterned motifs are a decorative feature on armchairs, sofas and beds, diamond shapes and mottled patterns abound on the covers of decorative cushions, crystal chandeliers, opulent Persian carpets, ornate candlesticks or porcelain teasetsfor taking "afternoon tea". A functional tile fireplace, whether finished with carved wood or decorative stone will lend a unique form of magic to your home interior. Traditional English design conjures an enchanting atmosphere of past times with elegant, classical charm. When the furniture and accessories are selected with care, the desired effect of grandeur and opulence is achieved.
Where can I find this style?
For example: Angligká sezóna.
You can find more Englist inspiration on our Pinterest page.
Would you like to cooperate with us? Contact us on Facebook, telephone +420 733 546 097, or e-mail: office(at)architects(dot)cz.